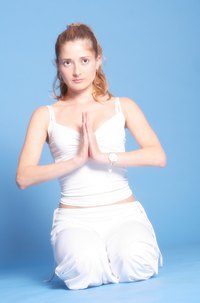 A posture is considered healthy when pressure and gravity are effectively allocated through your spine and muscles. Having a bad posture often leads to back or neck pain, but it can also affect your height. Without strong and lengthened muscles and bones, your height may develop improperly. A bad posture also hides what can be your true height because you do not stand up straight. There are many exercises and techniques, including yoga, that can help elongate your muscles and increase your height.
Sit on a chair and allocate all your weight on the lower tip of your buttocks. Sit up straight and continue to change the position of your feet. This helps relieve pressure in your legs. Practice this position daily until sitting taller and straighter is your natural way to sit.
Perform a chin exercise. Keep your back straight on a chair and your face pointing forward. Lower your chin so it touches your chest and count to three before moving your face back to the starting position. This strengthens the muscles in your back, according to the Growing Taller Guide website.
Roll your head from shoulder to shoulder. Lower the right side of your head to your right shoulder, then slowly roll your head down to your chin and to your left shoulder. This aids in neck flexibility and muscle elongation.
Shift your weight from side to side without moving your waist while standing. If you stand for a long period of time, weight shifts to your waist, relaxing your shoulders and back muscles. By shifting your weight side to side as you are standing, you will keep your back and shoulder muscles strong.
Perform the yoga technique known as "dog and cat." Get down on your hands and knees with your hands in front of your shoulders. Inhale and press your stomach toward the ground, creating a curve in your back. Then exhale and move your body in the opposite direction so your back and your stomach curve toward the ceiling. This exercise will stretch the discs in your spine, according to the Growing Taller Guide website.