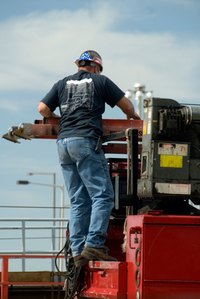 A mobile business is more convenient for your customers, as you give them the services they want rather than forcing them to wait in a waiting room at a traditional auto repair shop. Your customers don't have to miss any time off from their jobs or leave their car on the interstate waiting for a tow truck. You can open a mobile auto repair business in Virginia with a strong business plan.
Things You'll Need
Business Plan
One Stop Logon
Business License
Federal Tax Employer Identification Number
Vehicle
Business Cards
Make a list of services that you can perform from a mobile repair vehicle. Oil changes, diagnostic checks, and tire changes can be easily performed anywhere. Hire a research firm. Commission a survey to determine what services are high in demand from your local area.
Write a business plan. Outline your daily operations, how you will handle service calls and the rates for those services. Draw out a service map of the part of the city you will serve.
Create a username and password to sign into the Virginia Department of Business Assistance's (DBA) Business One Stop website. As of November 2010, the fee for a One Stop account is $20. Follow the instructions on choosing a business entity. Register your entity on the online program .
Apply for your mobile vendor's license. The Virginia DBA advises you to contact your city/county Commissioner of Revenue or Department of Finance for business licensing and your city/county Zoning Office for zoning permits.
Get a Federal Tax Employer Identification number from the IRS. To do so, download and complete form SS-4 from the IRS website. Register to pay business taxes in Virginia with the Department of Taxation.
Secure funding. The Virginia Business Magazine advises, "Virginia Active Angel Network: (Blacksburg, Charlottesville, Richmond) Invests in seed and early-stage companies in a variety of business sectors that are located within a four-hour drive of Charlottesville and Blacksburg."
Buy a vehicle to store your auto repair equipment. Look for a vehicle that you can customize per your business needs. Load the vehicle with your tools for the trade such as portable diagnostic machine, car jacks, crowbar, and other tools.
Apply for an unemployment insurance account with the Virginia Employment Commission. Even if you are going to be the only mechanic, you still need to register in the event you can't perform the duties for an extended period of time.
Order business cards. Print a one to two line slogan that tells prospects succinctly what you do, such as "We repair your car wherever your car is!" Make it a habit to leave business cards with every customer you come in contact with.