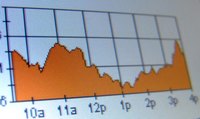 No matter how you choose to invest your money, keeping track of your performance is essential. Life and work may distract you from keeping track of your investments, but taking the time to check your performance can pay off in the long run. Investors have a number of ways to keep track of their stocks without taking up too much time.
Keep copies of all your brokerage statements in a special place. Set aside a folder just for your brokerage statements, and refer to those statements to see how your stocks have performed since you bought them. Keeping your brokerage statements all in one place also makes it easier to file your taxes, since you already have the information you need.
Log on to your brokerage account and go to the account menu to see a list of your holdings. The listing for each stock will show the current price, the number of shares you own and how much you paid for those shares. This makes it easy to calculate your capital gain and determine your tax liability if you were to sell a particular security.
Set up a personal stock portfolio at a financial website like Yahoo! Finance or CNN Money. These personal stock portfolios are a good way to keep an eye on stocks you are considering purchasing. Each time you go to the financial website, a list of stocks you are tracking will appear on the screen.
Subscribe to a financial publication like the Wall Street Journal or Investors Business Daily and use the stock tables to track the stocks you own, and the ones you want to buy. You can also check out these publications in your local library, or look for the information you want at their websites.