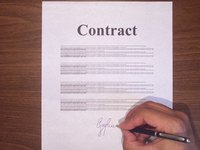 Service contracts are offered when an individual makes a large purchase such as an appliance, electronic device, a car or even a home. A service contract is designed to help the consumer defray some of the costs associated with regular maintenance and upkeep on a product, and offer repairs in the event of a breakdown. While a service contract is similar in repair offerings to an extended warranty, the focus is primarily on regular maintenance than repairs.
Stress how regular maintenance can prevent breakdowns or mishaps with the purchase by providing documentation supporting maintenance intensive statistics versus repair statistics for poorly maintained items. In addition, provide the consumer with a breakdown of regular maintenance costs versus the cost of the service contract. When comparing dollar for dollar, service contracts are typically less than paying out of pocket for regular maintenance.
Sell the service aspect of the contract. Stress how the company you represent is going to take a proactive approach to a service contract. The more easily a consumer can use the benefits of a service plan, the more likely they are to buy it. Have examples of a follow-up plan prepared to show the customer the value of having a service contract.
Use resources like available technicians and customer testimonials to help the customer see the value in the service contract. Technicians can add a lot of value to the sales process as their expertise in educating a consumer on the importance of maintenance can go a long way. Once the customer is sure that the contract will make their lives easier, it adds value psychologically. Consumers are more likely to purchase a product if they can clearly see the value in it.
Ensure that the customer knows whether the price of their service contract is able to be financed as a part of their purchase. Because making large purchases can feel overwhelming, the ease of adding the cost into their financing can make it easier to get to "yes." If the product cannot be financed, have all of the payment terms readily available and clearly displayed for the customer. If they don't purchase a service contract at the time of the product purchase, follow up and attempt to sell them on a service contract again in the next few weeks.
Outline clearly what is covered under a service plan and what isn't. This protects the salesperson from over promising and causing problems with a disgruntled consumer down the line. Happy consumers are serious referral sources, which can net more sales.