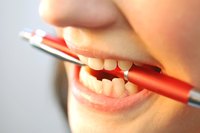 Improve your smile in just one day by using an over-the-counter whitening kit. While these kits do not provide the same whitening as you can receive in the dentist's office, they are less expensive and can be used immediately. Common whitening products include whitening toothpastes, rinses, strips and trays. Whitening kits with trays and concentrated bleaching gel work the quickest and should be used when you want to see a noticeable difference within one day.
Things You'll Need
Tooth whitening kit containing concentrated gel and tray
Toothpaste for sensitive teeth
Brush teeth using toothpaste designed for sensitive teeth.
Squeeze concentrated gel into tray. When squeezing the gel into the trays, take care to use enough gel that it covers your teeth, but not so much that it overflows onto your gums.
Insert tray into your mouth. If any gel squeezes out onto your gums, wipe it away with a cloth.
Set a timer for the length of time specified by the directions.
Remove the trays when your time is up.
Use a toothbrush to lightly brush any excess gel off your teeth.
Rinse trays immediately. Gel can harden and stick inside the trays if they aren't cleaned.