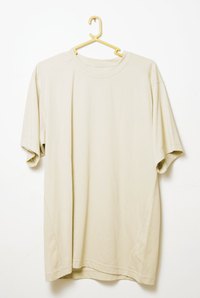 Sunless tanner is a healthy way to fake the look of a golden tan. While it is an excellent product to use, there are drawbacks. Not only can it streak on your body, but it can come off on your clothes. The stains that you see are the dead skin cells coming off of your skin. Usually you can't see them. However, when you fake tan, the skin cells are essentially stained and that's why you can see them on your clothing.
Things You'll Need
Towel
Paper towels
Dish soap
Water
Cotton balls
Hydrogen peroxide
Place the clothing item on a towel on a flat surface. Place dry paper towels on top of the stains and dab the stains with it.
Mix together clear dish soap with approximately three tbs. of water.Dip a soft cloth into the mixture and dab it onto the fake tan stains. Don't soak the stain but get it wet. Wash the clothing item as usual.
If the stain does not come out, dab hydrogen peroxide onto the stain using cotton balls. This should be a last resort because it can stain clothing. Once you're done, wash the clothing item as you usually would.