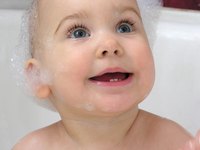 Baby shampoo is gentler than shampoo made for adults, and most brands are tear-free, meaning they won't irritate the delicate eye area as much as traditional shampoo. Although baby shampoo is meant to cleanse a baby's delicate hair and scalp, it can also be used to wash your face. Baby shampoo gently washes away dirt and make-up, providing a gentle cleansing for the skin.
Things You'll Need
Wash the Face
Cleanse your hands in warm water with hand soap to remove bacteria and prevent spreading it to your face.
Adjust the water temperature to tepid. According to the Bella Sugar website, "anything too hot will shock the skin and could even burst capillaries, resulting in those sensitive red marks usually found around the nose and cheeks."
Wet your face and apply a dime-sized amount of baby shampoo to your fingertips. Massage the shampoo into your skin in circular motions.
Wet a clean washcloth. Gently rub the cloth on your skin to work the shampoo into a lather while gently exfoliating the skin on your face.
Put a little baby shampoo on a cotton swab and use it to gently cleanse around your eyes and remove eye make-up.
Rinse your face with cool water and pat dry. Apply a moisturizer if needed.