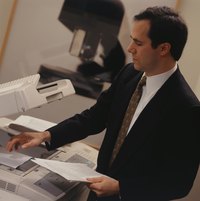 The Canon imageCLASS MF6500 is a multifunction copier that also prints, faxes and scans. With many more features, it is inevitable that at some point you will experience a glitch. Many of these problems are overcome with the in-copier menu and error display system. Whether the issue is a paper jam or a toner cartridge that needs replacing, the fixes are fairly simple. Before having a service technician check out the copier, there are a few basic troubleshooting steps you can run through on your own.
Remove paper jams when a "Check Document" or "Document Too Long" messages appears on the LCD display. Check the jam location indicator where the jam has occurred. Open the ADF (Automatic Document Feeder) and remove the jammed document. Check in the document feeder tray and beneath the platen glass cover and remove any jammed documents from there as well.
Remove paper from inside the unit when you see a message reading "Paper Jam." Open the left cover and carefully pull the jammed paper out of the machine. Tilt the two-sided transport guide toward the machine and remove any jammed paper from that location as well. Close the left side cover. Pull out the paper cassette and ensure that the paper edges are pushed beneath the tabs. Push the paper cassette back into the machine until it clicks.
Reset the machine if you receive a message that reads "System Error." Turn off the main power switch, wait for more than 10 seconds, then turn the copier on again. If the message persists, unplug the machine from the power supply and contact your local Canon Customer Care Center.
Remove the toner cartridge if you receive a message that reads "Toner Low, Prepare New Toner." Rock the toner cartridge back and forth a few times to evenly distribute the toner, then reinstall the cartridge. If the message persists, replace the toner cartridge.
Reload the paper and reset the paper cassette correctly if you receive an error code that reads "#0009".
Print, delete or fax any document stored in the memory if you receive an error code that reads "#0037".