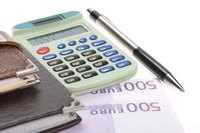 Expense budget planning is an important part of any budget. An expense budget is a list of forecasted expenses within a set amount of time. An expense budget could cover a quarter, an entire year or just a month. Often it is good to look at your annual expenses and then break them down further so you can set money aside each month to cover the expenses that are irregular or only come once a year.
Gather a copy of your expenses for the last year. If you have been using budgeting software this is an easy report to get, because it will break down your expenses into categories. If you do not have that you will need to go through your expenses and divide them into categories.
Write down the expenses that occur every month. This could be your rent, any utilities, groceries and debt payments.
Search your past expenses for any irregular transactions that would not fit into one of those categories. For example taxes, some types of insurance plans and registration fees occur once or twice a year.
Create a category for these expenses. Lumping them into an irregular expenses category may make it easier. Add all of the expenses together and divide that number by twelve. Set aside that amount of money each month to cover the irregular expenses throughout the year. Another option is to create individual categories for each expense. If you do that, you will need divide each individual category by twelve and set aside the money for each category every month.
List any additional expenses that may arise in the next year or quarter. For example you may purchase a new car, or you may have medical bills for a pregnancy or planned surgery. Add these items into your budget as well.