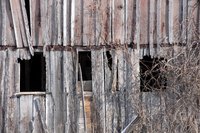 A homemade frame is not only inexpensive, but can be a way of preserving memories if you use wood from a tree on your property or an old building being torn down. You can make rustic, one-of-a-kind wooden picture frames from materials that are free or almost free. Look for pieces of firewood with unusual grain or old distressed lumber from barns or rural outbuildings. Stain the wood to emphasize the grain or finish it with a clear sealer to preserve and show off its weathered look.
Things You'll Need
Wood
Measuring tape
Table saw
Epoxy
Carpenter's square
Drill
Hammer
Finishing nails
Clear acrylic or stain
1-inch finishing nails or staples
2 screw eyes
Measure the height and width of the picture you want to frame, including the mat or backing. Subtract 1/2 inch to 1 inch to calculate the inside dimensions of the frame, depending how much you want the mat to overlap the back of the frame.
Saw four pieces of wood 1 inch thick, 2 to 4 inches wide and at least 8 inches longer than the height and width measurements, for a large frame. For a frame that's less than about 8 by 10 inches, saw the wood only 1/2 inch thick and an inch or so wide. Use a table saw. If you have enough wood, cut extra pieces so you can choose the best ones later.
Lay the boards stacked crosswise or with spacer sticks between them and let them dry thoroughly indoors for a few weeks until they stop shrinking and become stable. This is especially important for freshly cut living trees or wood that's been outdoors in the rain.
Set a table saw fence at a 45-degree angle and saw off one end of a board at that angle.
Measure along the short edge and mark the inside length of the picture frame. Saw the board again at the mark, slanting outward at a 45-degree angle, so the angles slant in opposite directions. Cut a total of four boards, one for the top, one for the bottom and two for the sides.
Spread epoxy on the angled ends and assemble the frame flat on a tabletop, pressing the edges together. Check that the frame is square with a carpenter's square, then let the glue dry.
Drill a pilot hole for a finishing nail into the edge of each corner, slanting the hole so the nail will tie both boards together at the joint. Spread glue on the nails and tap them in place with a hammer.
Finish the frame with clear acrylic or a wood stain of your choice.
Nail 1-inch finishing nails or picture frame staples halfway into the wood on the back so you can bend them over to hold the picture and mat in place. Add one screw eye on each side so you can use wire to hang the frame on the wall.