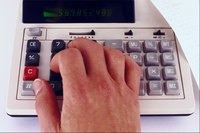 Throughput yield is also known as first pass yield. Throughput yield looks at the success rate of manufacturing through a process. A company normally manufactures pieces in processes. For example if a company manufactures widgets, then one process might be assembly and another process might be painting. Throughput yield looks at how many pieces go through the process and come out successfully compared with how many pieces came out in total. This is an important measure of the success rate of a company's manufacturing.
Count the number of items you have to start the process. For example, a firm has 150 widgets to process.
Count the number of items that make it through the process without any mistakes. In the example, after the process is complete, you count 148 widgets that did not have any errors. (Two did have errors.)
Divide the successful amount of items making it through the process by the total amount of items that went through the process. In the example, 148 divided by 150 equals 0.9867 or a throughput yield of 98.67 percent.