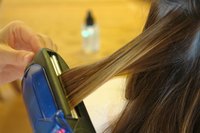 The Philips HP4696 is a useful multi-style hairstyling tool for those who like to try out different hairstyles. This appliance comes with multiple attachments to achieve curly, wavy or sleek looks. On days you feel like wearing your hair straight, you can get the stylish look without too much trouble. Try the straightening attachment on the Philips HP4696 for the appeal of smooth and straight hair.
Things You'll Need
Wash your hair. Use the blow dryer to dry your hair thoroughly. Your hair must be completely dry before using the straightener. Brush your hair with a paddle brush to remove any tangles. Apply a dime-sized amount of straightening serum to your hair. Work the product through from root to tip.
Slide the straightening attachment onto the handle. Secure into place by turning the lock to the right. The device is not locked properly until the arrow on the lock is lined up with the arrow on the handle.
Place the Philips HP4696 on a sturdy surface. Plug it into an outlet. It is ready to use when the circle on the attachment changes color.
Grab 5 to 6 centimeters of your hair, and press the lever on the device to open up the straightening attachment. Place the small section of hair in between the straightening plates -- at least an inch away from your scalp . Slide the straightener all the way down to the tip of your hair. Continue until you have pulled the straightener through your entire head of hair. Repeat if your hair still has some curl left in it.
Wait until your hair has cooled completely. Apply another dime-sized amount of straightening serum to your fingertips. Rake the product through your hair, from the roots to the ends. Use a large paddle brush to remove any tangles from your hair. Do not brush the hair too much; it will cause frizz.
Unplug the straightener; and allow it to cool before putting away.