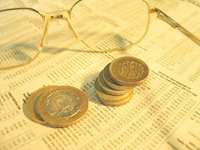 Companies issue shares of stock to raise capital. Each share of stock represents an ownership stake in the company. The company is referred to as a "public company," because shares can be purchased and owned by the public. A company that wants to cancel shares of its own stock must buy back those shares from the public before they can retire them. The process is not difficult, but certain rules must be followed to avoid fraud.
Decide how many shares of stock you can purchase. Shares can be purchased using retained earnings, which is a line item on the company's balance sheet.
Decide on the price at which you want to purchase the stocks. Purchasing large amounts of stock can increase the price of stock on the market, so it is important to develop limits.
Buy back shares of the company's stock. When a company buys shares of its own stock, it is referred to as "treasury stock" on the accounting books. A company can purchase shares either through an investment broker or their preferred investment bank.
Use a transfer agent to cancel shares on behalf of the company. It is necessary to use a transfer agent because of the Securities and Exchange Commission. By hiring a transfer agent, which is often the investment bank or legal advisory team for the company, you eliminate the possibility for fraud.
Mark all securities being canceled with the word "canceled." The transfer agent is likely to do this for you.
Store securities in a dedicated and secure storage area that can be easily accessed if the SEC requests proof of cancellation.