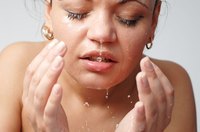 While waterproof makeup is great when it's raining outside or when you might be sweating, taking it off at night can be a challenge. Washing your face alone typically won't remove it, and eye makeup removers can be expensive and irritating to your eyes. Baby oil and baby shampoo are two cheap household products that double as eye makeup removers. They are safe for use around the eye area and break up your makeup so it can easily wash off.
Things You'll Need
Dip a cotton ball into baby oil. Close your eye and wipe the cotton ball over your eyes in a downward motion. If the cotton ball dries out, dip it into more baby oil and continue to wipe until you've removed the mascara and eyeliner.
Use a clean cotton ball to wipe the excess baby oil from your eyes. Splash your face with a bit of water.
Squirt a dime-sized amount of baby shampoo into your palm. Rub your palms together until the shampoo foams. Spread the foam over your eyelids, careful to avoid your tear ducts. Gently rub the shampoo over your eyes to remove eyeshadow and any other makeup residue.
Splash your face with water to remove the shampoo from your eyes. Wash your face with a standard facial cleanser and moisturize as needed.