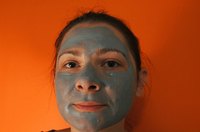 Masks are an inexpensive way to keep the skin looking firm, fresh and wrinkle-free. Ingredients like raw honey refreshes and rejuvenates the skin thanks to its antioxidant and healing properties according to the Organic Facts and Home Remedies For You websites. Lavender oil in masks helps treat wrinkles and skin disorders, according to Organic Facts. Coconut oil is another beneficial anti-aging ingredient, according to the Coconut Research Center, as it deeply moisturizes skin to prevent dryness and wrinkles. Anti-wrinkle masks can be purchased at your local beauty supply store or can be made at home.
Things You'll Need
Rose clay
Oatmeal
Honey
Avocado or almond oil
Lavender oil
Rose oil
Heart of palm
Wheat germ
Powdered milk
Bay leaves
Celery stalk
Russet potato
Mint
Unpeeled cucumber
Vanilla extract
Coconut extract
Egg whites
Knife
Small bowl
Blender
Cutting board
Mature Skin Mask
Measure 1 teaspoon of each of the following: rose clay, instant or finely ground regular oatmeal, honey and almond or avocado oil. Add ingredients to a small bowl. Follow by adding one drop each of frankincense, lavender and rose oil.
Thoroughly mix ingredients until a paste is formed. Apply mixture to face and leave on for 15 to 20 minutes. Try relaxing in a bath while the mask soaks in.
Rinse off mask with warm water. Pat face dry with a clean towel. Repeat weekly or as necessary for firmer, smoother skin.
Hearts Of Palm Anti-Aging Mask
Chop and measure 1/2 cup of hearts of palm. Cut a cucumber (unpeeled) in half. Measure 1/4 cup each of wheat germ and powdered milk and cut 1/4 of a russet potato that is cleaned, but not peeled. Add all ingredients to a blender.
Add two bay leaves, two egg whites and one stalk of celery to the blender. Measure 1 teaspoon each of the following and add to blender: mint, vanilla extract and coconut extract.
Blend all ingredients with blender set on low-medium for about 45 seconds. Apply mixture to face and let sit for 15 to 25 minutes. Rinse with warm water and refrigerate any unused mixture for up to three days.