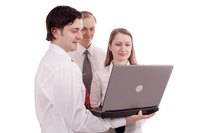 Once you've had a productive meeting, it would be helpful to share a recording of the conversation with someone who wasn't there. Attaching a copy of the materials discussed would be an added bonus. By conducting the meeting via WebEx, a service that provides simultaneous online and phone conferencing, these options are possible. The host has the ability to record the WebEx session, including the conversation, chat notes and presentation materials, then e-mail the recording to anyone. The recipient can access the recording from an e-mail message.
Enter the meeting as a host from the "My WebEx Meeting" screen.
Select the "Record" icon on the "WebEx Meeting Center" page.
Click on the red dot record button from the "Recorder Panel" to begin recording the session.
Continue recording for the duration of the meeting without any further action, or click on the "Pause" button to temporarily stop recording.
Select the blue square stop button from the "Recording Panel" to stop recording the session.
Send the recording to someone by selecting the recording from "My Recorded Meetings" on the "My WebEx Meeting" screen. When prompted, enter the e-mail address and a note. The recipient can listen to the WebEx session, see video and review materials through a streaming link.