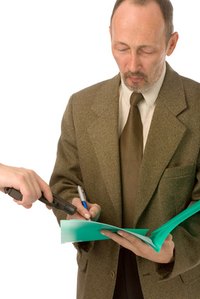 Even when economies are struggling, governments are still in business and, in many cases, thriving. Becoming a registered government vendor is not hard at all, and the best part about it is that it's free. Winning a government contract can present challenges. The word bureaucracy is often used in regards to government for good reason. The federal government can be convoluted and lengthy in its processes, resulting in slow business turnarounds. Starting a government contracting business is a good idea if you are a thorough, patient and capable business person.
Things You'll Need
Doing Business As (DBA) Name
Tax Identification Number
DUNS Number
Central Contractors Registration
Cage Code
Internet
Email Address
Access to Fax Machine
Bank Account
Locate your Tax Identification Number (TIN). If you do not have a Tax Identification Number, you can apply online through the Internal Revenue Services website. Click on the link that says "apply for TIN." You will need your Doing Business As (DBA) name, which is the name of your business. Complete your Doing Business As registration at your local City Hall. There is a small cost for registering and the fees may vary depending on what city you live in.
Apply for your company DUNS number through the Duns & Bradstreet website. Click on the link in the navigation bar that says, " D&B D-U-N-S Number" then on the next page click on "For U.S. Government Contractors, Vendors and Grant Recipients Get a D&B D-U-N-S Number." This process is free and takes five minutes or less to complete. You will need your basic contact information, along with your Tax Identification Number and your business name. The DUNS number is a nine-digit number assigned to businesses to be identified and tracked in a worldwide database.
Wait 48 to 72 hours to receive your official DUNS number, which will arrive by email.
Log on to the Central Contractors Registration (CCR) website and click on the link that says "New Registration." Fill out the brief registration form, which takes less than five minutes. You will need your new DUNS number and your company's basic company administrative information. This information includes: banking information, number of employees, total revenue from the previous year and company expertise/trade. The Central Contractors Registration is a government portal that logs company information and classifications for registered vendors.
Wait 3 to 5 business days for approval. The approval will come by email.
Log on to the Fed Biz Opps website and click on the "Register Now" link. Fed Biz Opps is where the government posts all of their contracts available for public bid. Fill out the brief registration form, which will ask you for your DUNS number and contact information. View the site tutorial which will teach you how to effectively use the site and find open contract opportunities.