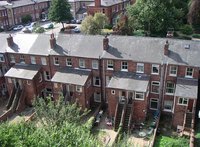 Landlords who need to create a lease to give to a new potential tenant can create such a document online. You no longer have to rely on a broker, but just download a residential lease on your own. While you do not need to act as a lawyer to give your tenants this type of contract, you may want to phone an attorney before you use the lease you download to ensure it complies with the laws of your state.
Go to the online page of Public Legal Forms. Click on the ILRG (Internet Legal Research Group) Legal Forms Archive.
Click on the Leases and Real Estate option. This section is beneath the Business heading. Locate the Agreement to Lease, which serves as a contract for leasing noncommercial property. Choose the area where you own the dwelling.
Copy the text on the lease from the document and paste them into a word processing document that you create on your computer. Adjust the terms of the lease to meet your requirements, modifying such fields as the physical location of the home, duration of tenancy and the name of the tenant and landlord. Print out two copies of the document, and countersign them so both tenant and landlord have signed copies.