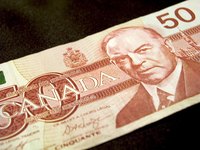 In Canada, a Registered Retirement Savings Plan (RRSP) allows you to save for retirement in a tax-sheltered vehicle. Contributions are deductible and provide tax relief in the year you make them, and investment income within the plan is not subject to income tax. You only pay income tax on amounts you withdraw from your RRSP. You must report all of your withdrawals on your tax returns, and all withdrawals are subject to immediate withholding taxes, regardless of your projected total taxable income for the year. If you withdraw from your RRSP simply because you need the money, then there is only one way to minimize the withholding tax: spread your withdrawals in amounts up to and including $5,000.
Gather your RRSP investment information. If you have made several contributions up to this point, it is possible that you have many different investments, spread around various financial institutions. Your latest statement for each investment will be your best source of information.
Find out which of your investments are redeemable. Some investments could be held in locked-in guaranteed income certificates (GIC) and cannot be redeemed until they mature.
Find out which of your redeemable investments have no surrender charges. You may need to contact your financial institution or financial adviser for the information. If you have your contract of investment, look for a clause outlining surrender charges.
Decide to withdraw from a redeemable investment with the lowest surrender charge (or none at all).
Decide how much you want to receive after withholding taxes.
Divide that amount by 0.9, giving you the gross withdrawal amount, net of 10 percent withholding tax.
Send a written request to the financial institution holding the investment from which you want to withdraw, asking for a withdrawal of $5,000. Repeat that request as often as you need to until you have reached your total withdrawal required. The withholding tax rate applies on a per-withdrawal basis and does not consider total withdrawals. Therefore, the withholding tax rate on all withdrawals up to and including $5,000 is 10 percent, or 21 percent if you are a Quebec resident.