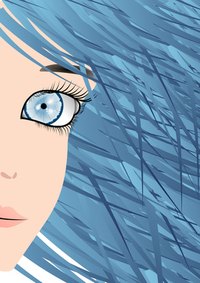 Some people dye their hair to provide a light touch-up to their color. Some dye their hair to lighten or darken their hair for a natural look. However, other people chose to dye their hair an unnatural shade or mix such as black and blue. Dyeing your hair a bright blue will require bleaching first. Because this processes can be very damaging, make sure your hair is in good condition.
Things You'll Need
Blue hair dye
Black hair dye
Bleach kit
Petroleum jelly
Dishwashing or latex gloves
Plastic wrap
Hair clips
Preparation
Map out how you want to mix the black and blue in your hair. Larger chunks of hair color mean a much easier time dying hair. If you dye your hair black on top and blue on bottom, you will have a much easier time than if you want black hair with tons of blue chunks.
Purchase your desired shades of blue and black. Manic Panic and Special Effects are both popular for unnatural hair colors. These brands sell both black and blue colors. However, you can also purchase black dye at any beauty or drug store. Black dyes from beauty or drug stores are typically permanent hair dyes while those from companies that sell unnatural hair colors are typically semi-permanent and fade much faster. Pick up a bleach kit from a beauty store.
Deep condition your hair to prepare it for the shock of bleaching. Wait about two days after conditioning your hair to begin bleaching.
Bleaching
Apply petroleum jelly to your ears, forehead and neck. This will keep the dye from staining your skin.
Put on gloves included in the bleach kit or any set of latex or plastic gloves.
Mix the bleach according to the kit's instructions. Apply bleach to your hair, starting with the ends. Most bleach kits will include a recommended time frame for bleaching. The darker your hair, the longer you should keep bleach on. Apply bleach to your roots only during the last 10 to 15 minutes of bleaching to avoid damaging your scalp.
Wash and shampoo your hair. Your hair should be near platinum blonde for the most vibrant blue. If you prefer a muted blue, your hair can be as dark as light brown.
Repeat bleaching if hair is too dark. Wait a few days between bleaching to avoid causing extra damage to your hair, and treat your hair with a good conditioner between bleaching.
Blue and Black
Hold back the portions of your hair you wish to dye blue with clips or hair bands. If you are making blue chunks, do this in sections, starting with the bottom and moving to the top. If you are only dying one side of your hair blue, you can simply hold back that side of your hair.
Cover the future blue sections of your hair with plastic wrap, from roots to tip.
Apply a new layer of petroleum jelly.
Don gloves and mix black dye according to package directions. Black dyes from Manic Panic or Special Effects typically require no mixing, but you can mix these dyes with a toner. A toner will mute the color slightly.
Apply black hair dye to the desired sections of hair with your hands or a brush designed for hair dye. If you desire a complicated pattern of black and blue, enlist the help of a friend to apply dye to the back of your head. Let the dye sit for 20 to 30 minutes, then rinse out. Be careful when rinsing as hair dye can stain your shower.
Repeat steps for blue dye. You can be a little less careful with blue hair dye because blue will not dye over the black sections. However, it might give black hair a blueish tone.