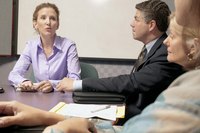 Office employees in most companies and organizations have a variety of duties and functions. The number of functions in an office can be organized in a variety of formats as well as categories. When all functions have been organized an office can run more efficiently and effectively. Usually the office manager is in charge of all office functions and their organization. Sometimes the functions in an office can be matched with the employee who is most skilled at performing that particular function.
Make a list of all functions that need to be performed in an office. Some of the functions could include filing, sorting mail, collecting time-sheets, scheduling, confirming appointments, technical support, customer service, and making travel arrangements. Office functions can include a broad range of duties in different organizations and businesses.
Organize functions by priority. Find out when the office functions need to be performed. Some functions need to be done daily and early in the morning. These functions should be given priority. You may not be able to perform some functions until the early morning functions are completed. This could delay the operation of your facility. For example tellers in a bank must stock their cash drawers and load the ATMs before the start of the business day. Avoiding or delaying these functions will make it difficult to provide service to customers once the doors open.
Document the skills, talents, and ability of all employees in the office. Make sure the correct employee is handling the right function. When employees are matched to the correct function in an office the job is performed more efficiently and effectively.
Review all functions at the end of the day. Make sure all functions have been performed satisfactorily on a daily basis. Complete all end of the day functions such as balancing, locking and closing the premises.