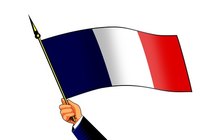 The use of credit cards in France is substantially less than in the U.S. The average credit cardholder in the U.S. has 3.5 cards, according to the Survey of Consumer Payment Choice, by the Federal Reserve Bank of Boston as January 2010. The average individual credit card debt is $15,788 according to the Federal Reserve's report on consumer credit as of May 2010. This compares to France, where individuals have an average of one credit card and less than $2,000 of credit card debt, according to the Spectator magazine. It can be difficult to get a French credit card. The application process is strict, so most people use debit cards, cash or checks. French credit cards are issued by your bank. The three most popular brands are Eurocard, Visa or MasterCard. The major difference between credit cards in France and the U.S. is you can generally only use your credit card up to the amount you have available in your bank account, unless you have made specific arrangements with your bank. This has a substantial effect on keeping credit card debt low.
Apply online to get a French credit card if you have set up online banking. Not all French banks offer this service, but if they do it's the fastest way to get a credit card. Major domestic and international banks are the best source. For example, HSBC France offers various credit card options online. You need to have a French bank account in order to get a French credit card.
Go to your chosen bank's website to get your French credit card. Click "Personal" and then "Credit Cards;" the terms used may vary. Many French banks do not present an English-language option.
Read about the types of credit cards available, the terms, conditions, charges and benefits. Select the French credit card you want to apply for then click "Apply Now."
Complete the login process then click on "Apply for a Credit Card" or similar term. Complete the application form, then click "Continue."
Review your application and confirm you accept the banking terms and conditions. Click "Submit." Your application will be verified. Some French banks will give you instant approval, but generally you will receive notification via mail.