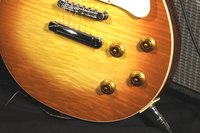 Epiphone is a company that makes a range of musical products, including electric guitars. While new Epiphone guitars are not "dirt cheap," they certainly aren't as expensive as some guitars such as Gibson or Taylor instruments. If you have an Epiphone electric guitar, there are methods of enhancing the sound quality of your instrument.
Things You'll Need
Epiphone electric guitar
Amplifier
Guitar cables
Guitar strings
Restring the guitar with new electric strings. New strings are one of the simplest and cheapest ways to vastly improve sound quality. If you want a thicker, fuller sound, heavier gauged strings are the way to go.
Replace your guitar cables with quality ones. Old or damaged cables can create buzzing or humming noises when you play.
Adjust the tone knobs on your guitar. Most Epiphone electric guitars have a gain and a bass/treble knob for each pickup. Try different settings until you get the sound that you like.
Experiment with different styles and gauges of picks.
Play your guitar through several different types of amplifiers to get a sense of the different sounds that are available. The speaker size and type, along with whether the amplifier is a tube amp or a solid state amp, can dramatically affect your sound.
Run your guitar through an effects box. These devices, which are usually controlled by a pedal, can provide hundreds of different sounds for your instrument.