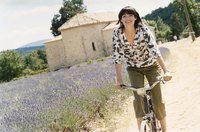 For a plus sized woman, finding a skirt, top or jacket that fits her frame can be a challenge. Many of these curvaceous women have pear shapes, which means they have narrow shoulders and larger hips. Many women feel uncomfortable with this larger body shape and would like to dress to hide her larger hips. There are several fashion tips and tricks that can be used to hide a woman's curvy hips.
Wear dresses that are tighter on the top and flow out toward the mid-section, such as an empire-waisted dress. Stay away from dresses that are made from clingy material, such as polyester and dresses that contain embellishments around the hip area.
Avoid wearing any top or bottom with horizontal stripes. These accentuate the width of a woman's hips, making them appear larger than they really are.
Choose a pair of pants that have wide legs, hang just below the belly button and are a dark color, such as black. All of these will accentuate a woman's curves without making the hips appear too large. Stick with jeans that are a darker wash as well. The dark blue coloring will help create the illusion of slimmer hips.
Choose pants and skirts without pockets. A pocket makes the rear end and hips both appear larger than they are.
Choose blouses, tops and jackets that have embellishments and bold patterns. These will draw the eyes upwards toward the top half of the body.
Avoid wearing clothing that is too large. Many women believe that baggy clothing will hide larger hips. In actuality, baggy clothing makes hips look larger than their actual size.
Wear accessories, such as a scarf, earrings or a bracelet. These will draw attention towards those areas of the body and away from the hip region.