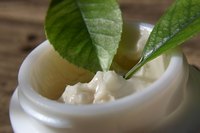 Nighttime face creams are thick, creamy lotions that help to create silky and smooth skin while you sleep. Because of their thickness, nighttime face creams are usually more intense and moisturizing than daytime cream. While nighttime creams are often expensive, save your money by making your own homemade versions that will work wonderfully.
Things You'll Need
20 fl. oz. almond oil
3 oz. beeswax
Herbs
Spoon
Large pot
Small pot
Boil 16 fl. oz. of water with a few tablespoons of your favorite herbs for three minutes. Use dried lavender if you want your nighttime cream to smell relaxing and to help you drift off into dreamland. Use dried rose hips if you want your cream to smell sweet and luxurious, or use dried peppermint leaves if you want your nighttime cream to have a cooling sensation.
Strain the boiled water to remove the herbs.
Make a double boiler to melt 20 fl. oz. of almond oil in it with 3 oz. of beeswax. To make a double boiler, place a small pot inside of a large pot. Fill the space between the large pot and the small pot with water. Place your ingredients in the smaller pot. The water heating around the smaller pot will heat your ingredients.
Heat and stir the almond oil and beeswax with a spoon until smooth.
Add the herbal water to the oil and wax mixture slowly. Beat continuously while stirring.
Beat the mixture until it is smooth, cooled and creamy.
Store the finished nighttime cream in an airtight container, and keep it in a cool, dark place.