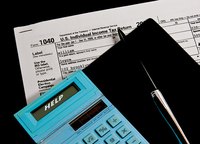 Everyone who earns more than $400 a year must pay into Social Security, the government-run program that provides citizens with regular payments in retirement. Most people have their Social Security payments deducted from their pay through their employer's payroll system. However, if you are self-employed, you will have to deduct your Social Security self-employment tax yourself.
Visit an IRS office, bank or post office and pick up Form 1040, Schedule C and Schedule SE. Schedule SE is the form where you will report your self-employment tax.
Fill out Form 1040, which is your individual income tax return. You will need to include your all your personal information as well as financial information such as total wages, taxable interest and alimony received. This will calculate your total income.
Fill out Schedule C. You will need to detail any expenses for your business. This will include your deductions and depreciation.
Check the current tax rate. The tax rate for Social Security self-employment tax can change from year to year. You can find out the current tax rate by visiting the government's Social Security website (see Resource 1).
Calculate your net earnings. For Social Security purposes, net earnings are calculated by taking your gross earnings from your business and subtracting your allowable deductions and depreciation. You can find your gross earnings on your Form 1040 and your deductions and depreciation on Schedule C.
Apply the current Social Security tax rate to your net earnings.
Fill out Schedule SE. You may need to refer to Form 1040 and Schedule C for your income, deduction and depreciation information.
Submit all forms to the IRS.