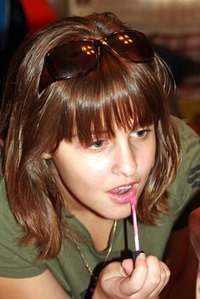 According to copywriter Alan Sharpe, whose clients have included Fortune 1000 companies, there are 34 ways to write a slogan that's memorable enough to jump-start sales and increase brand identity. You're looking for just one to get your cosmetics products on the radar of every woman on the planet. Happily, the formula for writing slogans isn't complicated, so get to know your audience, come up with lots of ideas and recognize the perfect one as soon as you see it.
Understand your cosmetic company's customer. Read psychological profiles exploring the relationship between females and cosmetics to understand why women are willing to spend big bucks in return for the promise of transformation (see Resources). Hang a head shot of your "ideal customer" on your computer monitor alongside your logo to help focus your thought processes.
Compile features and benefits lists to focus on what a woman derives from using your cosmetics. Include features such as longwearing, concealing, skin-friendly, easy-to-remove, inexpensive or fashion-forward colors. Think strategically when compiling your benefits: e.g., look younger, appear flawless, gain self-confidence, attract attention or be the envy of other women.
Evaluate contemporary slogans you see and hear—particularly those used by other cosmetic companies--in newspapers and magazines, or on websites and billboards. Isolate the clever ones and use them for inspiration and idea generators. Make a note of the slogans that turn you off or have the potential to turn women off. Notice the power of messages that use few words to create memorable slogans.
Employ tried-and-true copywriting techniques to draft your first slogan list. Ask questions ("Tired of cosmetics that don't deliver on promises?), inject emotion ("Treat yourself—you deserve it"), empower ("You can change the way men see you"), borrow from popular slogans ("Got Face?"), try staccato-style techniques ("Clean. Clear. Confident.") or make a promise: "We'll show you the refund if you're not thrilled." Prepare to back up claims made within the body of the slogans on your short list.
Avoid censoring yourself as you draft slogans. Write long and keep going, putting down every combination of phrase you can think up. Boost your output by working with creative friends to flesh out ideas. Add food and beverages to the equation and keep drafting until you've literally exhausted the topic and yourself from the effort. Let the list percolate for at least one day (don't peek).
Winnow down your cosmetic company slogan list. Remove anything that can be misconstrued as sexist, risqué, flirting with copyright infringement, too long or just plain dumb. Iif you can't find dumb slogans, you weren't working hard enough!) Cull the list by asking others to review the slogans on your final list. Hire a focus group if you can afford one, or grab a clipboard and survey women on your own.