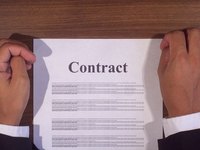 A contract is a legally enforceable agreement between two or more people. Contract administration involves those surveillance activities performed by an enterprise's administrative personnel charged with ensuring that the performance of the contract is properly fulfilled by the contractor. Developing a quality contract administration plan is essential to good contract administration. Plans may be complex or simple. In either case, a contract administration plan should focus on major contract outputs and best practice methodologies for analyzing a contract's performance. A contract administration plan is a company's road map to ensure that it gets all that is has bargained for from outside contractors.
Things You'll Need
Clarify in the plan the duties and scope of authority of the company's contract administrator. Depending on the company, the contract administrator may not be the same party with power to award, sign or modify contracts. It should be clearly provided for in the plan that a contract administrator should not make oral or written agreements to contractors outside the scope of his authority.
Explain the the function of postaward orientation. The postaward orientation is an opportunity to clarify the mutual understanding of the specific contract requirements. This can include the contractor's role, the contract administrator's role, the company's quality control and testing oversight powers, and billing and payment approvals procedures. Early postaward clarification reduces potential misunderstanding early in the process.
Describe the contract administrator's technical performance monitoring duties. This may involve making on-site visits, reviewing the contractor's performance reports and meeting directly with the contractor regarding the contract's progress. Make clear in the contract administration plan who within the company should receive notice of technical or contractual difficulties encountered during performance.
Draft procedures for monitoring cost overruns. In the contract administration plan, provide procedures for conducting cost audits that ensure that budgets are being maintained. This is needed in cost-reimbursement contracts as opposed to fixed-price contracts. Procedures may include examining contractor progress reports and blueprints, which may uncover potential cost overruns. Also, maintaining time-card, sign-in sheet and overtime information in spreadsheets is a way to track human resources costs.
Explain the process for invoice payments for delivered services or products. How payments are made on a contract is provided for in detail in a written contract. If payments are ongoing, they should be timely and accurately processed. A contract administration plan should provide direction to contract administrators on timely notification to contractors of invoicing defects. Also, review the contractor's first invoice in detail with the contractor to address potential issues regarding invoice format and level of detail. This will make subsequent invoices easier to review and process.
Address contract corrections and modifications. Contract administration plans should address the procedures for notifying executive or management personnel regarding needed corrections or modifications to the contract. Depending on the type of contact and its duration, it may be best practice to establish quarterly performance meetings with the contractor and relevant top-level management or executive personnel from the company.
Provide instructions on closing out a contract. Typically, this occurs when the contractor has performed all of the necessary outputs for the completion of its part of the contract. Develop a general closeout audit checklist in the contract administration plan. This can include general milestones that can be more fully developed and customized based on the individual contract. This final closeout checklist should be a permanent part of each closed contract file. This helps to ensure that all contract performance actions have been completed.