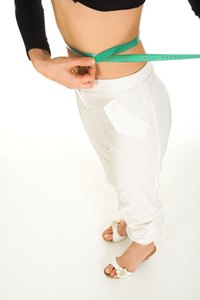 The LA Weight Loss Program has more than 650 centers worldwide. However, most are based in the U.S., Canada and the U.K. The company provides is a customized diet program designed to meet individual needs. It also runs a website program designed to deliver meal replacement products to your door after you fill out an online questionnaire. The individualized program consists of allocated servings of carbohydrates, including fruits and vegetables, fats and protein daily, along with protein snack bars.
Things You'll Need
Soy protein bars
Weighing scales
Weigh yourself and work out your boxy mass index (BMI) using your height and weight to work out how much weight you need to lose. Keep a food diary and list everything you eat so you can keep track. Include meals eaten out.
Eat two, four-ounce servings of protein a day. Choose from the following list: beef, steak, lean cuts of pork, lamb, veal, minced beef, minced turkey, salmon, crab, tuna, swordfish and low-fat cottage cheese. Alternately, you may eat a six-ounce servings of chicken breast, turkey breast, cod, shrimp, sole, scallops, snapper, lobster, grouper, bass or halibut. One of these protein portions can be replaced with an egg or one ounce of low fat cheese.
Eat three servings of fruit a day. These can be apples, oranges, peaches, kiwis, one small banana, grapes, strawberries, blueberries, cherries, melon, raspberries, pineapple or papaya. One serving of fruit is a cup.
Eat three servings of vegetables each day. These can include cabbage, cauliflower, carrots, peppers, tomatoes, egg plant, green beans, spinach, kale, zucchini and squash. Again, one cup equals one serving of vegetables.
Eat two portions of carbohydrates from the following: one rice cake, one slice of low calorie bread, one medium baked potato or one cup of brown rice. You can alternate these with one cup of cereal, which can include: Bran Flakes, Oat Flakes, Shredded Wheat or Grape Nuts. A quarter cup of skim milk is allowed each day.
Eat two servings of low-fat products daily. Choose from low-fat margarines. Low-calorie oils or diet mayonnaise products are also acceptable.
Eat two protein bars as a snack each day. The ones recommended by the LA Weight Loss program are soy protein bars, which are available at most health food shops. You can also order online from the LA to Your Door website.
Sign up for the free LA Scoop eNewsletter. This will give you the latest news, eating tips and events at LA Weight Loss.