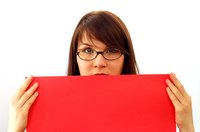 You've done it. You've just come up with the world's greatest idea. You know it's going to be a hit but you're not sure how to pitch it. Without a good pitch, you won't be able to attract buyers for your product. Pitching products takes practice, but if you believe in your idea and practice your pitching skills, your invention could be a top-seller in no time.
Things You'll Need
Make a list of the features and benefits of your invention. Features describe the actual product and what it does, benefits describe how the invention helps solve a problem or makes it stand out from similar products. Write every feature and benefit you can think of, then rank them in order of importance.
Create a 30-second description of your product, based on the features and benefits. This should be the hook that grabs your audience's attention. This hook should introduce the "pain point," or the problem that your invention solves, as well as the key feature and benefit to buyers.
Practice your 30-second pitch in the mirror. If you are struggling, write down your thoughts. Repeat your pitch over and over until you have it memorized. Smile, be confident and pay attention to how you look in the mirror. The more comfortable you are with your pitch, the stronger your presentation will be.
Create a short demonstration using your product. If your 30-second pitch grabs your audience's attention, you are halfway to a sale. Get your product working exactly how you want it to, and have on hand whatever accessories are necessary to make your demonstration memorable.
Practice in front of friends and family once you've perfected your 30-second spot and demonstration. Let them ask questions and invite them to try out your product. This will help you to understand what questions might come up, and allow you to work answers to those questions into your pitch and demonstration. Once you feel comfortable with every aspect of your invention, you are ready to take your pitch to the public.