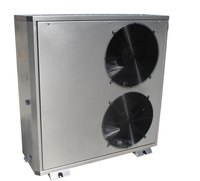 An HVAC small business can be a profitable enterprise, but before you can earn money you will likely need to finance your operation. HVAC refers to heating, ventilating and air conditioning systems. An HVAC business can sell, install, or maintain these systems. Because HVAC technology is used in medium and large modern buildings, there is a large potential market for an HVAC business. Raising the funding for a small HVAC business may not be easy, however. Small businesses often have difficulty raising capital. An effective way for you to raise the necessary capital is through the three Fs: friends, family and fools.
Invest your own money in your HVAC business before you approach anyone else. It is important to invest your own money because it demonstrates your belief in the business and should increase the willingness of others to invest. You might not have the liquid assets to invest in your business. In that case, you will need to borrow money for your investment. Banks are often unwilling to offer business loans to start-ups, but you can apply for a bank loan that is guaranteed by the U.S. Small Business administration, in which case you will likely need to have a business plan. If you have good credit you should be able to obtain a personal line of credit from a bank that you can use to invest in your business.
Pitch your idea to friends and family. When explaining your business to friends and family, you should tell them what kind of HVAC services you will be offering, what your plan is for marketing the business and what kind of profit they can expect on their investment. These people may be willing to invest largely based on their faith in you, but you should still demonstrate that you are knowledgeable about your business. You should lay out your expected start-up costs such as specialized HVAC equipment and tools, vehicles for transporting equipment and workers and a cash float to pay expenses. Also explain how much equity in your company you are wiling to offer for their investments. Alternatively, you can ask friends and family for a loan to be repaid with or without interest so you do not have to give up equity in the business.
Find fools to invest in your business. The term fools refers to people who do not know you, but who may be willing to invest in your business. These people may be friends of friends, but they can also be professional investors. Angel investors are professional investors who invest in small start-ups that typically have difficulty securing funding. Be aware, however, that despite their name, angel investors can demand a high level of equity for their investment and may even charge you a fee to become involved with your business. You can find these investors through online resources such as Go4Funding and Fledgewing.