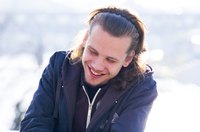 Although the hair-care industry caters mostly to women, men should follow similar hair-care techniques when it comes to combing to prevent damage and premature balding. Men should use a good comb and follow a specific hair-care schedule according to their hair's texture. Learn how to properly select a comb and techniques to incorporate into your hairstyling regimen.
Select a comb according to your hair's texture. Use a wide-tooth comb if you have textured, thick or curly hair to prevent snarls and tangles while combing. If you have fine hair, feel free to use combs ranging from small to larger teeth. Avoid combs with sharp teeth because they can scrape the scalp and cause irritation.
Comb your hair gently and remove all tangles starting at the ends of your hair, if it's longer. Combing back your hair vigorously could cause what is known as "traction baldness."
Avoid combing your hair while it's wet. Hair is at its weakest while wet, so wait until your hair dries before combing. However, if you have longer, thick, textured or curly hair, avoid combing your hair while it's dry. Apply a moisturizer or spritz your hair with water to dampen before combing. The curls and coils in textured hair make it more susceptible to damage and combing this type of hair while dry could lead to breakage and excessive frizz.
Wash out any hairsprays and hair gels before combing your hair. Your hair should never be "crunchy" while combing. Combing your hair while holding products are still applied can cause excessive shedding.