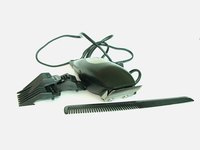 Hair trimmers are not just for a 10-year-old's buzz cuts. A trimmer allows you to cut various length and styles when you take advantage of the many clips and attachments available. In addition, cutting hair at home can save quite a bit of money over the long term. With regular use, these trimmers can tend to stick and clog, requiring some basic repairs or maintenance. Luckily, this is a task any do-it-yourselfer can tackle with some basic household tools.
Things You'll Need
Examine the power source. Although it seems obvious, simple mistakes involving the power are often the issue with a hair trimmer not working. If the trimmer is battery powered, make sure the charge is full. If the trimmer plugs into an outlet, double-check that the outlet is working by plugging in a different appliance. Also inspect the cord itself for any damage.
Examine the blades. After being certain the power is cut to the trimmers, inspect the blades to ensure they are clean. Trimmers come with brushes to clean them, but any type of small bristle brush will work, such as a toothbrush.
Remove the small screw in the center of the blade to remove it from the trimmer. Soak the blade in rubber alcohol to clean it and then spray it with a household oil like WD-40. Wait an hour for the oil to set and then reattach the blade to the trimmer.