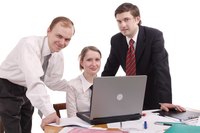 Encourage your staff and watch as productivity at your workplace increases. Staff encouragement not only creates a more harmonious atmosphere for your business and improves your employee retention, it is also an essential part of managing your business in a way that ensures more consistent effort and a higher-quality work product from your employees. Encouraging staff pays dividends for employers and there are several different ways you can encourage your staff to make them happier, more productive employees.
Make it a company policy to hire and promote from within whenever possible and encourage your staff by reminding them that they can build their career with your company by working hard and giving their best effort.
Commend employees when they are performing well. Single out individual employees to commend their work personally and commend employees together for their team efforts and cooperation. Remind them of how much their hard work is appreciated and that hard work leads to promotions/rewards.
Provide learning opportunities for your staff. Offer educational opportunities such as tuition reimbursement, attendance at seminars, conferences and training sessions for employees who want to use their education to build a career with your company.
Provide a vehicle for staff to share their ideas and opinions. Create a suggestion box and encourage staff to share ideas for improving the company. At staff meetings, encourage staff to speak up and share their ideas.
Start a mentoring program. Place new or under-performing staff members with more experienced or more productive employees or managers who can act as mentors and encourage them and teach them how to be more productive.