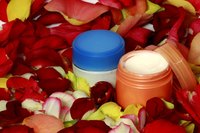 Body lotion and lip balm are widely available from drug stores or beauty supply stores but you don't have to settle for the products on the shelves in your area. When you make your own lotion or lip balm at home, you can experiment with the ingredients and ratios to create products that suit your personal needs. Mixing beauty products at home requires a little trial and error, so keep track of any changes you make to the recipe as you work so that you can easily recreate your favorite blends whenever you need them.
Things You'll Need
1/2 cup oil (almond, olive or coconut)
Microwave safe bowl
2 tsp. emulsifying wax
Microwave safe cup
1/4 cup distilled water
Electric mixer
Lidded container
1 tsp. beeswax pellets
2 tsp. coconut oil
Spoon
Flavor extract
Food color (optional)
Small lidded container or lip balm tube
Lotion Recipe
Pour 1/2 cup of oil into a large, microwave-safe bowl. You can use almond, olive or coconut or a combination of these oils.
Add 2 tsp. of emulsifying wax to the bowl.
Microwave the bowl on high until the emulsifying wax is melted.
Heat 1/4 cup of distilled water in a microwave-safe cup for two minutes on high.
Whip the oil and wax mixture with an electric mixer on low speed.
Pour the hot water slowly into the oil mixture as you continue mixing on low speed.
Increase the beater speed when all of the water is incorporated into the oil. Continue to whip the mixture until it thickens and resembles a thin hand lotion.
Pour the lotion into a lidded container.
Lip Balm Recipe
Measure 1 tsp. of beeswax pellets into a microwave-safe bowl.
Add 2 tsp.of coconut oil to the bowl.
Microwave the bowl on high for 30 seconds.
Stir the beeswax and coconut oil and continue to heat at 10 second intervals until the ingredients are liquefied.
Add one or two drops of flavor extract to the mixture. Look on the baking aisle of most grocery stores to find a wide variety of extracts to choose from.
Stir in one or two drops of liquid food coloring if you would like a colored lip balm.
Pour the liquid into a small lidded container or an empty lip balm tube.
Allow the lip balm to cool at room temperature until it becomes solid before attempting to use it.