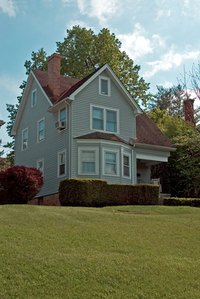 In today's economy, more and more banks are selling mortgages off to other banks in an effort to liquidate their assets. In many cases a mortgage is sold from one bank to another after the bank itself has hit troubled times. By selling off mortgages to other banks, the bank is freeing up debt it has incurred. Under federal law, banks are not required to ask permission from consumers to sell their mortgages to another bank, so the consumer has no say in whether his mortgage can be sold to another bank or not.
Contact your mortgage loan provider. Inquire about why your mortgage is being sold to another bank and whether you can contest this sale. Federal banking laws and regulations as of 2010 allow financial institutions to sell mortgages or transfer the servicing rights to other institutions without asking for permission from the mortgagee.
Determine if any changes will be made to your existing loan once the sale of your mortgage is made to the other lending institution. Under federal law, the new bank cannot change the terms of your mortgage without contacting you first. The mortgage agreement is a legally binding document between both parties, and even if the mortgage is sold to a new bank, the new bank must agree to knowingly purchase your mortgage with all of its agreements. Keep in mind, however, that if your loan goes into default, the new bank can and will take actions of foreclosure if necessary.
Determine where to make your new payments. The new bank that owns your mortgage will contact you within 60 days of the loan being purchased to notify you where to send mortgage payments. If the bank you had your mortgage with failed, the FDIC automatically steps in to help that bank sell all of its mortgages to other banks.