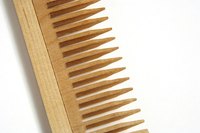 Static electricity is worse during cold dry weather and causes strands of hair to stand on end. Static can be so bad, you may even hear the crackling sound of electricity if you try to comb through the hair. Combing hair with static electricity often makes the static worse, unless you take special precautions.
Things You'll Need
Spray bottle
Rubber comb
Dryer sheet
Conditioner
Moisturizing shampoo
Fill a clean spray bottle with plain water. Spritz your hair lightly, just enough to dampen it. The water subdues the static and will calm your hair down. If you do not have a spray bottle available, wet your hand under a faucet and rub your hand over your hair.
Comb your hair as you normally would, and spritz with water again if necessary. Hair Parlor suggests using water to tame hair instead of hairspray, if prone to static, as hair spray is drying to the hair, which causes more static.
Smooth a dryer sheet over your hair when you are finished combing, or if your hair still seems to be full of static. This will help prevent static from returning as quickly when hair has dried.