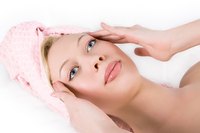 Using a glycolic peel, also referred to as a fruit peel, gently exfoliates the skin to help reduce fine lines and wrinkles. Going to a spa or beauty salon for a glycolic peel can be very expensive. Fortunately, you can recreate a glycolic fruit peel at home using fresh fruit. This will allow you to treat yourself to a fruit peel as much as you like, without hurting your pocketbook in the process.
Things You'll Need
Slice a fresh pineapple so that you can collect the pineapple flesh. Discard the top, bottom and skin of the pineapple.
Place the pineapple flesh into a blender.
Peel the skin off of a mango, and discard it.
Slice the flesh off of the mango, and place it into blender.
Add 2 tbsp. of raw honey to the blender.
Blend the mixture on high for 3 minutes.
Spread the mixture onto your skin, and allow it to remain there for 15 minutes.
Rinse off the mask with warm water, and pat your skin dry with a towel.