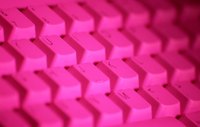 Adobe Design programs can be purchased individually or as a bundle, such as in an Adobe Creative Suite. There are a variety of programs available in the suite version you choose, like for example, the Design Premium Suite. This bundle includes the programs Photoshop CS5 Extended, Illustrator CS5, InDesign CS5, Flash Catalyst CS5, Flash Professional CS5, Dreamweaver CS5, Fireworks CS5 and Acrobat 9 Pro.
Things You'll Need
Open Adobe Photoshop on your computer.
Navigate to "File" in the top left corner of your screen, then "New" and "Blank File." Fill in the desired proportions of your newsletter, such as the height, width and resolution. For Web viewing, 72 dpi (dots per inch) is standard.
Design a basic grid or layout for the newsletter. The grid is design or format for the newsletter. Use the rectangle marquee or rectangle shape tool to draw color blocks that the newsletter title, and other page content will fall in. With the tool selected, click on the screen where you want the shape and hold and drag to draw the desired shape. This should be left somewhat uniform from version to version. By re-saving the newsletter in different names, such as July 2010, August 2010, etc., you can keep the same grid without recreating it and simply change out content.
Click on the "T" for text box in the tools palette on the left of your screen. Click and drag on your document to create a text box and type a title for the newsletter at the top of the screen. Change the font size and style at the top of the screen in the font editing palette. Click on the font style and type drop down menus to expand them and click on the desired choice to make your selection.
Place a block of color behind the title text or down the side of the document to mark a table of contents. Select the rectangle tool at the bottom left of your tools palette and select the color for the shape by double-clicking on the colored square at the bottom center of the palette. Click and drag on the screen to create the shape. To send the shape behind the text, right-click on it and select "Send to Back."
Add stories using the text tool. Be sure to select a font smaller and less bold than any title fonts.
Insert photos by clicking File then Place and then navigating to the photo you would like. Change the size of the photo by selecting it then dragging the corners in or out. Keep the photos proportions by holding down the shift key while you re-size it.
Save the document as a PDF or JPEG file, as most computers support these file types. Saving it as the default PSD file type will make it difficult or impossible to open by your email recipients.