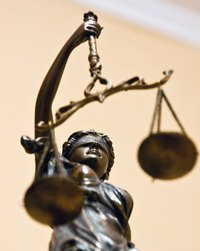 When company executives behave unethically, that behavior often ends up in the news. While most companies have ethics policies, they don't necessarily enforce or even follow them. By incorporating ethics into the very heart of the business and reinforcing the idea of ethical behavior, businesses can run efficiently, legally and ethically.
Write out a corporate ethics policy for your company. Clearly define personal, social and business behavior expectations and procedures. Establish information protection, client confidentiality and other ethical policies relevant to your business.
Make sure you and your employees know the ethics policy and are willing to implement it. Quiz them periodically and have them sign contracts that they've read and understand the policies.
Bring in outside experts to give workshops or seminars on professional and corporate ethics. Have her provide your employees literature or guidance for acting ethically in a professional setting.
Reinforce ethical behavior with promotions and wages, encouraging people to report unethical behavior by designating an ombudsman who will confidentially listen to complaints and act upon them without risk to the reporting employee.
Punish unethical behavior with time off, demotion or termination to show that ethics are your corporation's number one priority.