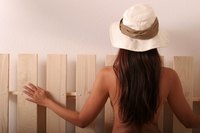 Indian hair is an especially beautiful type of hair that usually grows in a long, thick and shiny black or dark brown. Because of the natural makeup of Indian hair, it is relatively easy to grow it to long and healthy lengths. Follow this guide to improve the health and feel of your Indian hair so it can grow to its maximum potential.
Things You'll Need
Take your vitamins and eat a diet rich in fruits and vegetables to ensure that your body is nourished. A nourished and healthy body will allow your hair to grow long and show off your inner health.
Cut the ends of your hair off bi-monthly to remove damage. Indian hair does not need to be cut as often as most other hair types because the thickness of the hair makes it naturally more damage resistant. However, the occasional trim will keep damage from traveling up the hair shaft and causing breakage.
Apply coconut oil to damp, washed hair. Coconut oil will moisturize your hair and protect it from damage so it can grow long and healthy. Because Indian hair is so thick, it can withstand the heaviness of coconut oil moisturizers, while other heads would be left flat and greasy.
Make a deep moisturizer by mixing two eggs plus 4 tbsp. of olive oil and run the mixture through the ends of your hair. Leave this mixture in your hair for at least 20 minutes before washing it out with shampoo. This will leave your Indian hair smooth and silky and well hydrated so it can grow long without breaking.