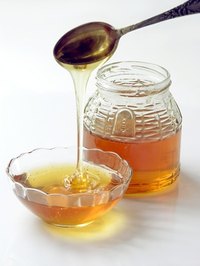 Acne is a problem on its own, but it can cause sensitive skin to start peeling. Peeling skin is an embarrassing problem because you can't cover it up. It can start flaking off at the worst of times. Fortunately you can choose among several options to deal with peeling skin so it stops and doesn't come back.
Things You'll Need
Drink six to eight glasses of water a day. Hydrating from the inside will help the outside to not dry out.
Reduce your use of topical ointments. If you are treating acne with a topical medicine twice a day, only use it once a day or every other day.
Add citrus fruits like oranges or grapefruit into your diet. These fruits are full of vitamins A, B and C, which help keep skin from peeling.
Rub honey onto your peeling skin.
Let the honey sit on your skin for 45 minutes, and then rinse it off. Honey will not irritate your acne but it helps to moisturize skin.
Use a moisturizer every day. Choose one that doesn't contain dye or scents, things that will only cause your skin to dry out further.