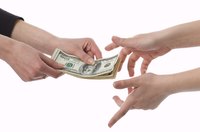 Private-money lenders, otherwise known as "hard-money lenders" according to Foreclosure University, are individuals with money they lend it to consumers for specific purposes, like real estate investment. Unlike a loan from the bank or from "soft money" sources, the private-money lenders give money with very strict and specific terms. Interest rates are usually very high, ranging from around 12 percent to 20 percent, according to Foreclosure University, and lenders will not give the full amount of any real estate investment. Finding these lenders is challenging because they are not typical lenders or banks.
Ask for a referral from a mortgage company. Hard-money lenders or private-money lenders will often work with mortgage lenders because they commonly lend money to those with bad credit or need money faster than a bank will provide.
Talk to a real-estate agency. Real-estate agents or companies often have information relating to real estate and the options available that private consumers do not have access to. A real-estate agent or company can obtain information about private-money lenders.
Look for online advertisements. Some private-money lenders will advertise online. When looking online, always type in the area and state because some lenders will only lend in specific states or are only licensed in specific states. For example, if looking for a private-money lender in New York, search only New York private-money lenders or New York State private-money lenders to find money lenders who are located in the area. Always check the lender with the Better Business Bureau to avoid scams and call the private-money lender to ask questions before applying.
Join a real-estate network online. Networks like the National Network of Real Estate Investors give information about real-estate deals or sales in various areas, private-money lenders in the area and useful advice.