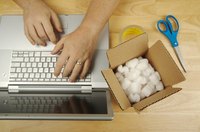 Hawaii is no stranger to package shipments from abroad. The small cluster of islands in the middle of the Pacific Ocean rely on incoming packages daily to provide materials, supplies, entertainment and personal items to the population. You can ensure your package arrives in Hawaii by clearly writing its intended destination on the box and using a courier that provides transpacific service. Always pack your box securely for the long airplane trip to the Islands of Aloha.
Pack your box with cushioning materials that will prevent the contents inside from smashing. Seal the box thoroughly with tape.
Write the destination address on the box top in clear, bold letters. You should write the destination address in the middle of the box. Write your address at the upper left corner of the box top.
Apply appropriate postage to the box from the courier of your choice. Examples of mail couriers include Federal Express, the U.S. Postal Service, United Parcel Service and DHL. Select the speed at which you want the box to arrive. For example, you can select for the box to arrive in one business day, two business days or overnight.
Drop your box off at the package facility of your chosen courier or take the box to a designated package drop-off bin for the courier.