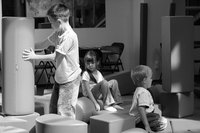 As over 50 percent of Canadian children between the ages of 6 months to 5 years old are in some form of childcare, according to the Government of Alberta website, starting a day care business in Canada provides opportunity for growth and prosperity. However, before starting a day care in Canada, you must obtain specific licenses and education to prepare you for the demands of the childcare industry.
Things You'll Need
Post-secondary education in childcare or early childhood education
Criminal background check
Provincial day care license
Research the requirements to open and operate a day care business. Each province has a regulating body that dictates and monitors the childcare industry within that particular province. There are also municipal requirements, restrictions and guidelines with which you may have to comply. Ensure you understand the process and requirements for opening a day care business in your home province.
Obtain the appropriate education and training. Most provinces require that you have a diploma from an accredited institution in childcare or a comparable discipline. This education provides you with the theory and industry-standard practices to prepare you for your career in day care. Most courses require that you earn your CPR and basic first aid certification as well as in-field job experience. Some schools offer job placements and internships as part of their diploma programs.
Register your business. To register your business, you must decide whether it will be a sole proprietorship, a partnership or a corporation. Both sole proprietorship and partnership businesses have the same fees and application process; however, registering a corporation requires that you complete a separate set of application forms and pay a slightly higher fee. All applications can be completed online on your provincial website.
Choose what type of day care business you will operate. Once you have earned your diploma and registered your business, you must decide how it will operate. There are three basic ways a day care operates--in-home, commercial or in the home of a client. In-home day care services are subject to the same regulations as a commercial day care. Commercial day cares are typically larger with more employees and the capacity for more clients. In the home of your client requires that you provide adequate childcare services at the client's residence.
Apply for a day care license. Each province monitors and governs the application process for new day cares. The licensing process differs slightly in each province; however, it usually requires that you submit a current criminal background check for yourself and any employees, partners or support staff. You must have your day care location inspected and approved as a safe and fit location to have children. After your location has been inspected and approved, you must obtain an application package from your provincial business office, complete it and submit it along with the processing fee, your criminal background check and location inspection approval.
Register with your provincial day care association. Most provinces have a provincial day care association that provides third-party validation of childcare providers for parents seeking childcare services. Once you have received your day care license, you must register your day care with your provincial childcare association. This allows potential clients to find your services and verify you qualifications.