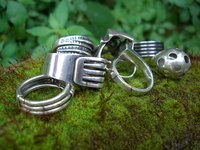 Silver rings and jewelry have been popular for centuries and readily available because the price of sterling silver has been low. With the price of silver rising and the world economy diminishing, silver rings from the old jewelry box are appearing in the marketplace for sale. Many sellers are not receiving the prices they should for silver. If you want to sell silver rings, do some research before you sell.
Things You'll Need
Clean silver rings before you start. Oxidation obscures the marks, and cleaning with a soft cloth and a silver cleaner will make it easier to see the marks. Do not use an abrasive cleaner.
Sell rings as scrap silver or as jewelry. Make this decision based on maker's marks or knowledge of provenance. If your rings can be documented to a well-known person, they will be much more valuable with the documentation of provenance. Logos often identify silver jewelry, and well-known makers mark their rings on the inside with a logo. James Avery and Jeep Collins are Texas silversmiths, and their jewelry is worth much more as jewelry than as scrap metal. This is also true for Scandinavian silversmiths like David Andersen. Review marks on a website like 925-1000 before selling your rings as scrap.
Identify silver rings as to content. Look on the inside to see if the content is marked. It may be marked "sterling" or .925, or maybe two letters and a number like TC-380. T numbers are usually Mexican sterling. Markings that are not sterling silver are "silverplate" and numbers below .925, like .900 or .800. Your rings may still be valuable as coin silver, but they are not sterling silver by U.S. standards. White gold looks just like sterling silver, but white gold pieces are usually marked with a karat mark inside. If you see a mark that is 14kt or 18kt, your item is gold and not silver. Gold is selling for about 100 times the price of silver in 2010, so it is worthwhile to check your rings for gold content.
Weigh the rings. One of the ways to avoid selling under market price is to weigh jewelry on a gram scale to determine the total weight before setting out to sell the items.
Shop locally. Take the rings to retail shops in your area, including pawn shops, jewelry stores and secondary market shops that buy precious metal jewelry. Ask them how much your rings are worth. Notice when they weigh them, and compare the weight at a few different places. Compare the prices they offer and decide where you will get the best deal.
Confirm values online. Look at websites like Kitco to check the price of silver daily. Calculate the value of your silver rings by estimating 31 grams in an ounce of silver. An easy way to estimate is to use a figure of $15.50 for an ounce of silver. This would make each gram worth 50 cents, and you can calculate how many grams of silver your rings contain. If silver goes to $31 an ounce, each gram would be worth about $1 for scrap value. Value would be increased for artistic merit and maker if sold as jewelry.