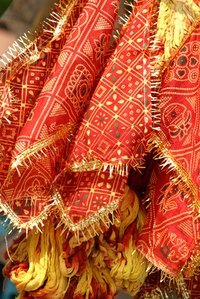 A lehenga is an newer style of sari worn for special occasions in India. One special occasion is the wedding celebration. The traditional wedding lehenga is a deep red fabric, decorated with expensive beads and small mirrors. A wedding lehenga is worn just as any other lehenga sari. This sari differs from the traditional because it is easier to wrap. The bride puts it on quickly and can sometimes even secure it with a hook at the waist.
Things You'll Need
Put on the underskirt (a petticoat that stays on the waist with a fabric drawstring) and the choli (shirt that is worn on top).
Pick up the lehenga and tuck the non-decorated fabric into the top edge of the underskirt. Start at the right side and work your way left around the waist until you have completed the circle. Wrap it once more around the waist, tucking in the fabric in the same manner. Some lehenga saris come with a hook sewn onto the fabric in the spot fitted to the bride's measurements. Hook the hook to secure the lehenga if this is the case.
Take the leftover fabric and continue in the same direction around your back. Wrap the fabric around your body and under your left arm so it comes to the front of your torso.
Drape the end of the fabric over the left shoulder. Secure the back of the lehenga to the choli with a pin if you are unsure about whether or not it will stay up.