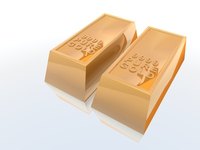 The U.S. Bullion Depository in Fort Knox, Ky., is where most of our nation's gold reserves are secured. The gold is in the form of 400 troy-ounce bars, sometimes referred to as ingots or bricks. Each weighs slightly more than 27 pounds. Gold bricks of this size can be purchased by private investors, however, the number of domestic gold dealers selling gold bars of this weight is quite limited.
Things You'll Need
Access to gold dealers selling 400-ounce gold bars
Sufficient funds to complete your purchase
Contact by phone or the Internet a gold dealer selling 400-ounce, 0.9999 percent, (pure) gold brick. Two companies selling gold bars of this weight are American Precious Metals Exchange (APMEX) or Hancock & Harwell Rare Coins. If you reside in the same location as the dealer, you may wish to visit them in person.
Ask each dealer what their per-ounce sales premium is on a 400-ounce gold bar. The premium represents the dealer's profit. The gold itself will be priced based upon the current world market price. The dealer can tell you what that is. If you visit the website of most gold dealers, the current real-time gold price is usually displayed.
Purchase your 400-ounce gold ingot from the dealer with the lowest sales premium. For a financial transaction of this size, the gold dealer will either accept a credit card or you can have your bank process a funds transfer directly to the dealer. A wire transfer may take a day or two to process.
Arrange with the dealer to have your gold shipped to you. If you complete your transaction in person, take your gold with you.
Store your gold in a secure location such as a bank safety deposit box. While quite heavy, a 400-ounce gold brick is relatively small, measuring approximately 7-by-4-by-2 inches.