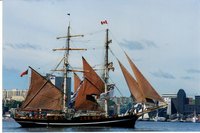 Many Nova Scotians run small businesses, either as a full time job or to supplement their regular income. Nova Scotia is a great place to start a small business, with government programs offering loans and grants, as well as other resources to help entrepreneurs get started. If you have considered starting a small business in Nova Scotia, it is not a difficult thing to do. Once you have a business idea in mind, you can begin the relatively easy process of starting your business.
Visit the Centre for Entrepreneurship Education and Development (CEED). CEED offers help to Nova Scotians who are looking to open a small business. They will help you with resources, including research on the many government grants and loans that are available for entrepreneurs. They also can help with business plans and provide other general information about starting a business in Nova Scotia. They are located at: Halifax Shopping Centre 7001 Mumford Rd Suite 107, Tower 1 Halifax, Nova Scotia B3L 2H8
Write out your business plan. You business plan should include details about your business, including your marketing strategy, an estimate of your expected cash flows and your source of funding. This will help if you need to secure funding and allows you to envision how your business will operate.
If you plan to register your business, visit the website for the Nova Scotia Registry of Joint Stocks (https://rjsc.gov.ns.ca). Click on the button that says, "Search Our Database". Enter the proposed name of your business. The database will show you if there are any businesses with similar names. If there are no businesses with similar names, you can register your business name on the website. There is a fee to do so which varies depending on the type of business (sole proprietorship, partnership, corporation, etc.).