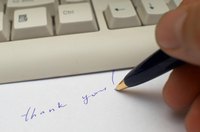 In our fast-paced world in which many transactions are done electronically, customer service may not seem as significant. You can show your appreciation for a company that has delivered exemplary products or services with a great customer service letter. You can also resolve a complaint effectively if you put it in writing. Your patronage is important and your feedback is invaluable. A few choice paragraphs can make you a valued customer. This can reap rewards for you and give other shoppers confidence before they make a purchase.
Address your letter to the manager or chief operating officer of the company or organization, date it and sign the letter. All three are important to add credibility and will also ensure that your letter will be read.
Explain in as much detail as possible what product or service you used and your overall satisfaction. Note when you shopped in the store, or placed an order online, to give a time frame as a reference.
Highlight the name of any sales associate who guided you during the transacation. Mention their knowledge and professionalism. Did they answer questions thoroughly? Did they make recommendations?
Remain factual, particularly if you are documenting a dispute. Do not use any personal slurs or insults, which can undercut your side of the story.
Indicate in the letter whether or not you would recommend the service or product to others and why. Include any advice as to what would have made the experience better. Constructive criticism is useful.
Conclude with contact information in case there is a need for follow-up. Your home or email address can be used to receive a refund, special bonuses or discounts that can be applied to a future purchase.